October 12, 2022

Day 3 -
7pm
Bloc_1

1345 Ave. Lalonde, Montréal, QC H2L 5A9



Get your tickets



JTTP 2022
First prize winners at the 23ⁿᵈ edition of the Jeu de temps / Times Play contest of the Canadian electroacoustic community (CEC)

JTTP - Latin America
Elliot Yair Hernández López
Born June 3, 1999 in Mexico City.
He studied sound art with Manuel Rocha Iturbide, electroacoustic composition with Edmar Soria and electronic art with Hugo Solis. He has presented his audiovisual works and electroacoustic pieces in different countries such as Mexico, Colombia, Peru, Argentina, United States, Canada, United Kingdom, Japan, Portugal, Switzerland and Europe. 'Austria. He recently won the international competition "Young Lion*ess of Acousmatic Music" and won first place in the JTTP Latin America award. As a digital artist, he seeks to experiment with different objects and different disciplines to create immersive pieces. , reflexive and abstract in order to offer the public sensations and emotions through audiovisual elements.
Programme
Ritual (2021) 5'25''
"Ritual" is a sonic exploration that combines digitally transformed everyday sounds; the play tells the story of a being trapped in an eternal dream that repeats endlessly, each repetition being a deeper and deeper dream stage.
Close your eyes, inhale and exhale, repeat three times. am I listening?

Move, feel the sound.What's going on?A dream, a dream come true.
Do you hear the voices?

I feel like I'm trapped , it's such an unreal feeling.

What do you feel? Anxiety, as if everything was closing around me.

Do you hear the bells?

No, I don't hear anything, I only feel this body that holds me, in an eternal illusion.
Listen carefully to the mantra...
JTTP - Canada

Joseph Sims
Joseph Sims is an emerging electroacoustic composer who focuses on multichannel composition and sound design for visual media. With roots in folk music, his compositional approach remains grounded in intuition and emphasizes the kinetic potential of sound organization. His education in visual arts has led to a keen interest in multidisciplinary projects. This is expressed through frequent collaboration with animators, film makers, and artists. He is currently completing his BFA in Electroacoustic Studies at Concordia University.


Katie Finn

Katie is an emerging illustrator and animator born in London, Ontario and currently living / working in Montreal, Quebec. Her work incorporates a mixture of analog and digital techniques, exploring new mediums in order to service the experiential and narrative possibilities of animation. She finished her BFA in Film Animation at Concordia University in 2022. Katie will continue to animate forever

Program

e (mi) [A/V] (2022) 7'11''

A collaborative audio-visual composition created by Joseph Sims (sound) and Katie Finn (animation). The piece explores contemporary and historical aesthetics of visual-music, displaying a variety of gestural and textural sound-image relationships. The focus was to create even hierarchical status in both the visuals and sound. This was achieved by each artist influencing both mediums at various stages of the creation. The macro and mezzo structures were determined by a visual score, while gestural energy and textural aesthetics were realized through the sonic material.
Kate Finn and Jospeh Sims
Philippe-Aubert Gauthier

Philippe-Aubert Gauthier is an artist and mechanical engineer, and he teaches at the École des arts visuels et médiatiques of the Université du Québec à Montréal. He holds an M.Sc., as well as a Ph.D. in acoustics. As part of his practice that brings together the arts, sciences, and technologies, he has produced more than 50 works in music, sound art, and digital art. Trained as a bass player, he has progressively shifted his music and sound practice further into the fields of electronics and computers. He is currently associate director at the Centre for Interdisciplinary Research in Music, Media, and Technology.
Website
︎
︎
Program
An idea appears, it's scary, the metaphor moves
(2022) 16'
Assembly. A chronological sum of improbable pairings of sounds and influences combining literature, magical realism, popular culture, ultra-pop music, noise inclinations, drone, electronics, acoustics, silences and rhythmic shimmers. Apparently arbitrary, it is a sum of nested quotes that builds this montage punctuated by piecemeal, fragmented improvisations. A magma of bare contrasts. Parts, movements and notes merge in a maze of electronics and modulars.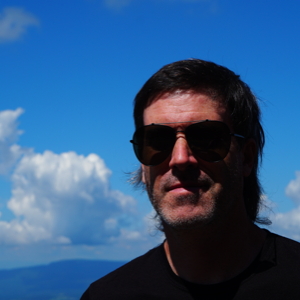 Vanessa Massera

Vanessa Massera has specialized in electroacoustic music, a medium she uses to express poetic ideas within the multiple cultural spaces and environments that fuel her inspiration.
Her works have been programmed by the following festivals, among others: EBU Euroradio Folk Festival (Russia), Svensk Musikvår (Sweden), NWEAMO (Japan), EMUFest (Italy), Música Viva (Portugal), NYCEMF (USA), Sound Travels (Canada), and Ai-maako (Chili). Her piece
Éclats de feux
won the 2nd prize at the Jeu de temps / Times Play (JTTP) competition (Canada, 2016).
She studied at the Conservatoire de musique de Montréal (2008-12), and later received a PhD in 2019 from The University of Sheffield (UK) for her thesis
Environment in Electroacoustic Music.
Program
Border Crossing
(2018) 10'21"
Border Crossing
was part of a LARP (Live-Action Role-Play) produced in the UK with the migrant crisis in Europe as a theme. This LARP was raising awareness about the challenges migrants face and the conditions in which these challenges arise. This work is the symbolic representation of blindly passing from one's country of origin to the next one without knowing what the path looks like or how long it will take to get to your destination.
[From electrocd.com. English translation:
François Couture
]
Border Crossing was realized in 2017-18 at the EMS (Stockholm, Sweden) and was premiered on May 24, 2018 during the event The Quota at The Gaol in Oakham (Wales, UK). It was commissioned by the Avalon larp studio. Thanks to Martine Svanevik for this wonderful collaboration.
Photo: Caroline Campeau
October 13, 2022

Day 3 -
8pm
Bloc_2

1345 Ave. Lalonde, Montréal, QC H2L 5A9



Get your tickets



Antoine Lussier
Antoine Lussier has been passionate about the sound wave from an early age. He toured internationally for several years, performing with his group Ion Dissonance as a guitarist and composer, but also as a member of pop, rock, hip hop, blues and gypsy groups. Lussier is currently a sound engineer and producer, with activities that range from directing to teaching, as he seeks to broaden this musical adventure through acousmatic composition. He is also active in various sectors of music and image creation, notably sound design for short films and music and sound creation oriented for video games. A graduate of the bachelor's degree in digital music from the University of Montreal, he is pursuing his master's degree in research-creation in the same establishment. The core of his research is dedicated to expanding the capabilities of the instrument that has brought him to this point today: the studio.

Program

Disjonction (2018) 10'30"

Different possibilities of temporal manipulations afforded by editing were explored during the composition of Disjonction. Using synthesis and sound recording, tiny singularities have spawned expansive constructions. Out of these luminous gestures and vast movements darkness appears. A mechanical and electrical aura feeds the piece from a material point of view, tracing a discursive course of uncertain temporality; an imaginary path of a timeline weakened by disorder.


Credit: Sébastien Chaput, 15 juin 2008, Berlin.
Franck Vigroux

Franck Vigroux works at the intersection of music, theatre, dance, and video. Never one to limit himself in terms of style, he was active on the experimental and improvised music scene before his musical development took him into electronic music. He has collaborated widely, including with Elliott Sharp, Mika Vainio, Reinhold Friedl, Kasper T. Toeplitz, Phill Niblock, and the Ensemble Ars Nova. Following on from his concept albums, experimental films, and collaborations with playwrights, sound poets, and choreographers, Vigroux began to focus more deeply on live audiovisual work and stage writing. From there, he gradually moved into music creation for multidisciplinary performances. His first productions with the Autres Cordes company appeared in 2010. He has released records with Raster Media, DAC Records, Radio France Signature, Leaf, Cosmo Rhythmatic, and Erototox.
Website
Program
Materials II (2018) 20'00"
Materials II is a continuation of my electroacoustic pieces Materials and Tension, this type of textures, moving masses, ruptures and stripping. Let's say that I have been turning and turning in all possible directions the same musical dramaturgy for more than a decade, and that once again I hope to draw a new "narrative" from it. It will be a live concert, with my usual hardware instruments, which will be based on a very specific structure and sound materials but with a degree of flexibility in my relationship to time, influenced by the acoustics of the room, that I don't know, the system that I don't know either, in short part of the shape of the piece itself has an unknown part… and that's good!
Credit : Quentin Chevrier
Myriam Boucher

Myriam Boucher is a video and sound artist based in Montreal (Canada). Her sensitive and polymorphic work concerns the intimate dialogue between music, sound and image, through visual music, audiovisual performance, Vjing and immersive projects. Fascinated by the natural environment, she creates audiovisual compositions from the landscape and the relationship that human maintains with it. Her work, « evocative in its dynamism, brings its audience close to something akin to feeling multiple emotions all at once » (The Link). Boucher's compositions range from works for orchestra, ensemble, collaborative and solo A/V performances.

Program

The Tuning of the Fields [A/V] (2022) 25' - premiere

The Tuning of the Fields is an audiovisual performance seeking to evoke these moments of loneliness and wonder, and this sense of suspended time that inhabits us listening to the song of crickets, eyes closed, at night, lying in a field .


Credit : Renée Lamothe
October 12, 2022

Day 3 -
9pm
Bloc_3

1345 Ave. Lalonde, Montréal, QC H2L 5A9



Get your tickets



Thomas Ankersmit

Thomas Ankersmit is a musician and sound artist based in Berlin and Amsterdam. He plays the Serge Modular synthesizer, both live and in the studio, and collaborates with artists like Phill Niblock and Valerio Tricoli. His music is released on the Shelter Press, PAN, and Touch labels, and combines intricate sonic detail and raw electric power, with a very physical and spatial experience of sound. Acoustic phenomena such as infrasound and otoacoustic emissions (sounds emanating from inside the head, generated by the ears themselves) play an important role in his work, as does a deliberate, creative misuse of the equipment.
︎
Program
– Premiere (2022) 20'
For this concert he will perform new, loosely structured solo material that's perhaps more cinematic and
musique concrète
than his earlier work - a project commissioned by Gaudeamus Foundation (Netherlands).
A music of scenes and sonic perspectives - created on the Serge Modular analogue synthesizer, without digital effects or other equipment. The music exists in the tension between abstraction and representation - with Ankersmit trying to 'breathe life' into the electricity, as it were.
Credit : Udo Siegfriedt
Jessica Ekomane

Jessica Ekomane is a French-born and Berlin-based electronic musician and sound artist. Her practice unfolds around live performances and installations. Her quadraphonic performances, characterized by their physical affect, seek a cathartic effect through the interplay of psychoacoustics, the perception of rhythmic structures and the interchange of noise and melody. Her ever-changing and immersive sonic landscapes are grounded in questions such as the relationship between individual perception and collective dynamics or the investigation of listening expectations and their societal roots.
Website
︎
︎
︎
Program
Manifolds
(2022) 17'27" – canadian premiere
Manifolds
was commissioned by INA grm and premiered in Paris on May 8, 2022, during the third edition of the Focus concerts series at Centquatre.
Credit : Camille Blake